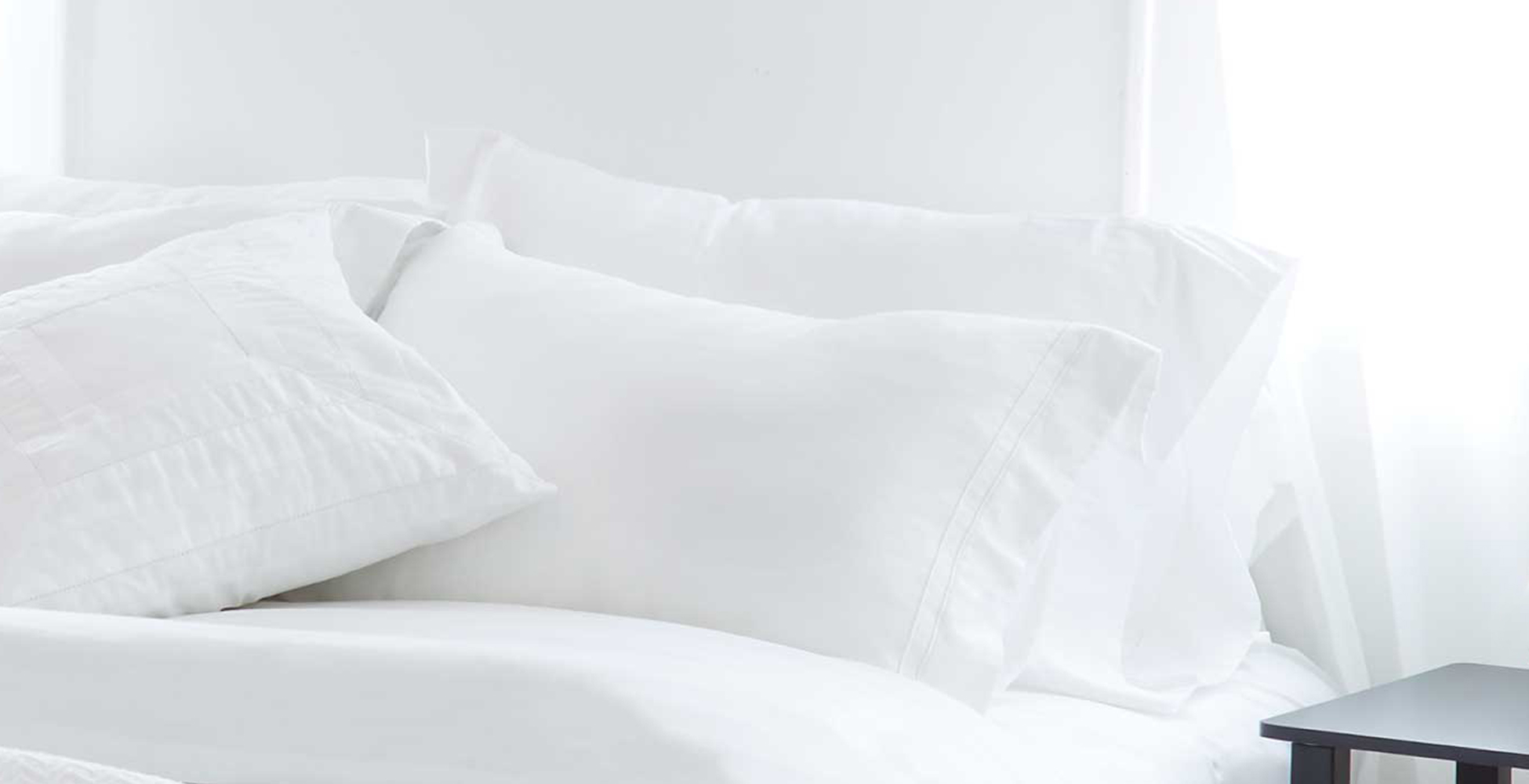 FLEXCASE® is a patent pending technology to solve the fit and puddling issues of boxspring covers! The FLEXCASE® boxspring cover is uniquely designed to wrap under the boxspring, which eliminates the bulky appearance of traditional boxspring covers. Opening the visual canvas for stunning top-of-bed furnishings, while adding a custom-fit appearance to every room.
FLEXCASE® Boxspring Covers adjustable fit stretches to cover a variation of boxspring sizes.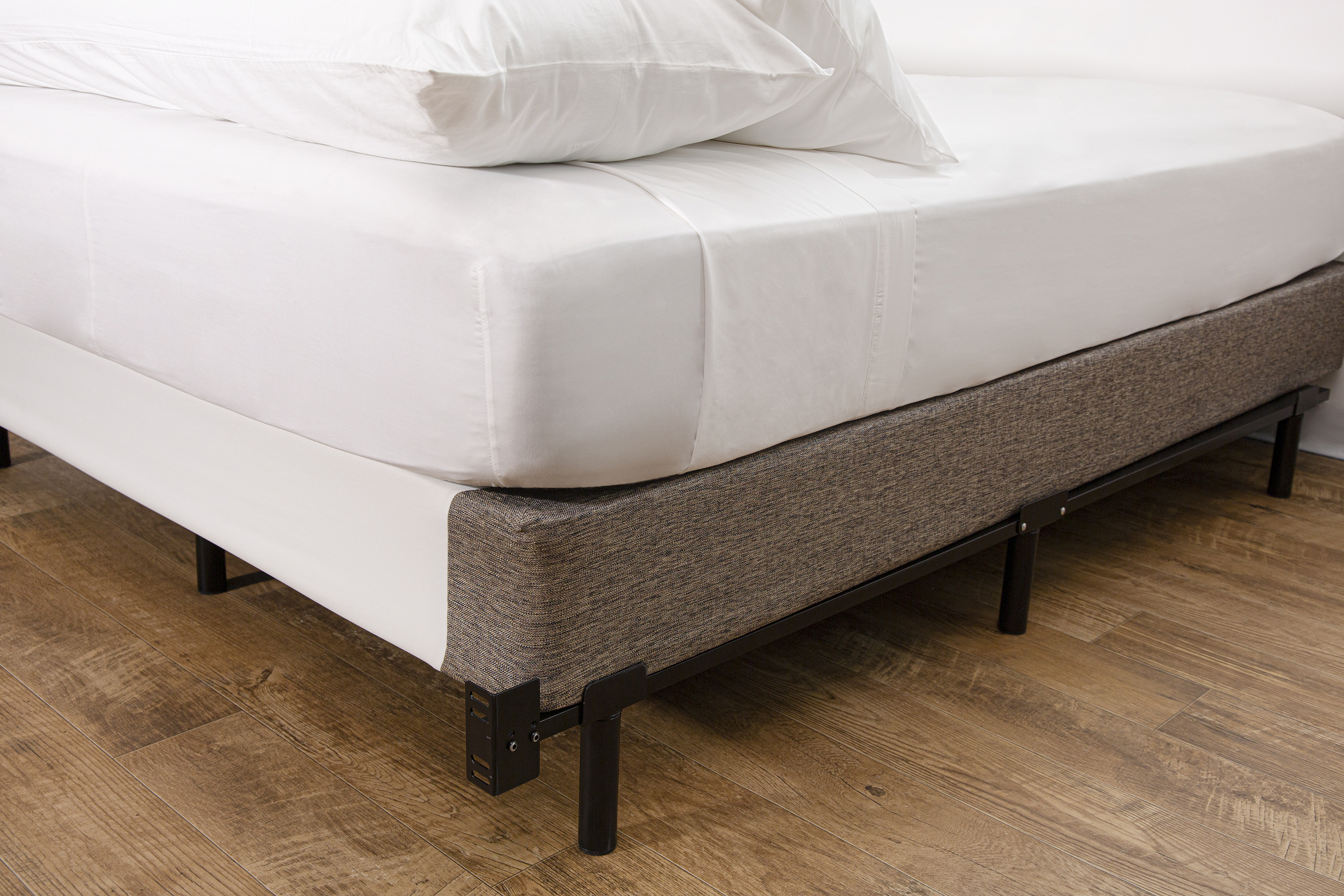 FLEXCASE® Boxspring Covers unique design constructed the bands, drop and under wrap all as one continuous piece.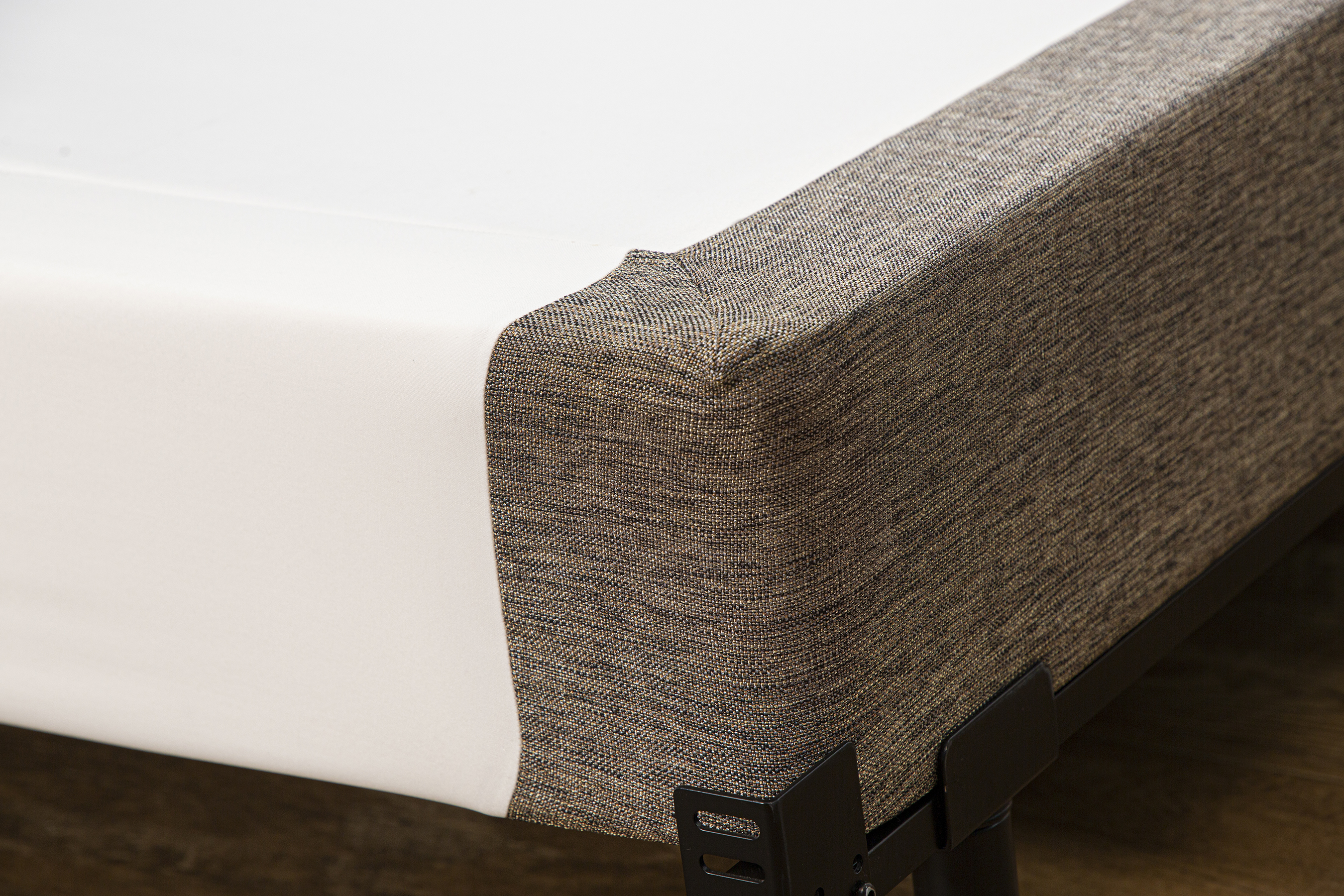 FLEXCASE® Boxspring Covers wraps under the boxspring for an expertly tailored and sophisticated finish.
FLEXCASE® boxspring cover creates an easy to fit solution for the final touch to an expertly designed bedroom scheme.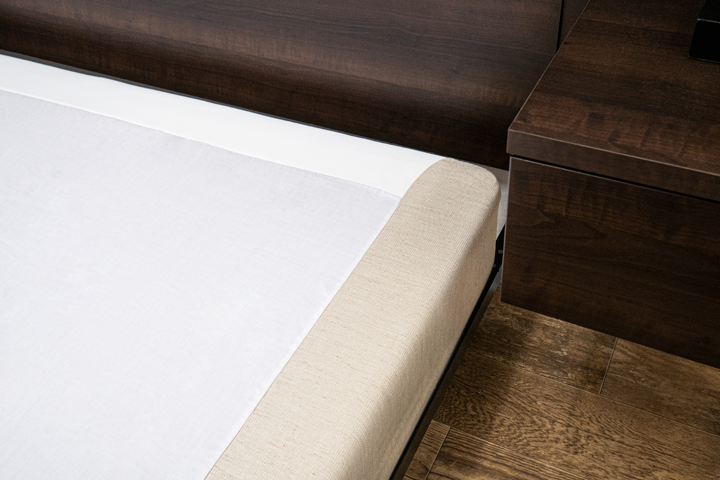 Download PDF Spec
Boxsprings
The stretchy fabrics on the left-hand side of the BED01 book (BED01-01 to BED01-80) fit your boxspring like a glove and provide a clean, sleek look that adapts to any size bed within a two inch variation! The lightweight fabrics comes in 80 stylish colors, have an understated texture, and a super soft hand. They are also washable!
The second half of this collection is perfectly suited to be created as a traditional bed skirt or a FLEXCASE® boxspring cover. Our FLEXCASE® was uniquely designed for a precise fit of any boxspring sizes, which eliminates the saggy appearance of traditional boxspring covers by hugging all corners and sides smoothly.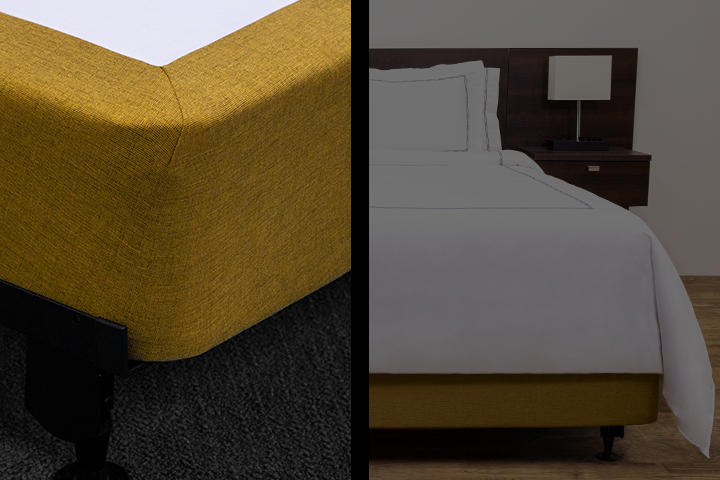 Add an extra stretch and better fit to your Boxspring Cover. Select from stretchy, adaptable fabrics or turn any textile into a FLEXCASE® to create an easy-to-fit solution for the final touch to a timeless look.
Bed Skirts
The right side of the BED01 collection (BED01-81 to BED01-141) holds fabrics that can be used for both Boxspring Covers and Bed Skirts. Choose from several subtlety textured designs that have assorted weave types incorporated into each pattern. These soft and washable textiles drape and pleat elegantly when used as a bed skirt, and can be fabricated at any drop/height to capture that 'perfect fit' look.
This half of the collection is also thoroughly suited to be fabricated into a FLEXCASE® boxspring cover. Our Patent Pending design allows for an adjustable fit up to two inches for the best fit, while the unique Valley Forge construction allows for one continuous piece for easy installation.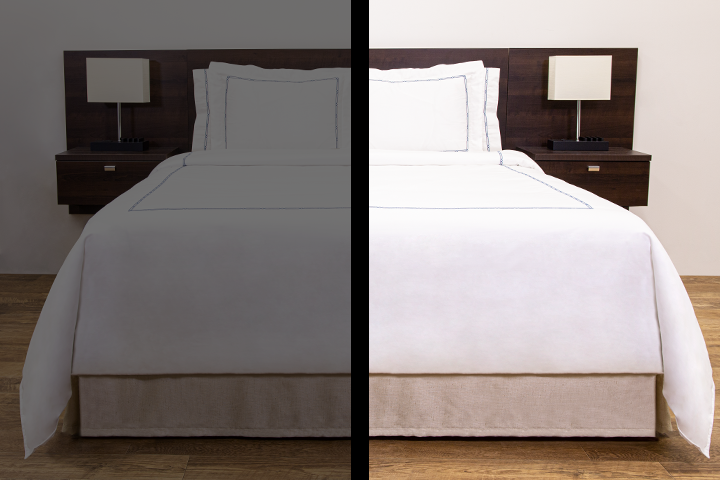 For an elegant and traditional look, select from over 60 soft fabrics that drape and pleat effortlessly. Small-scale textured weaves that are uncomplicated and easily coordinate with other textiles and materials in the room.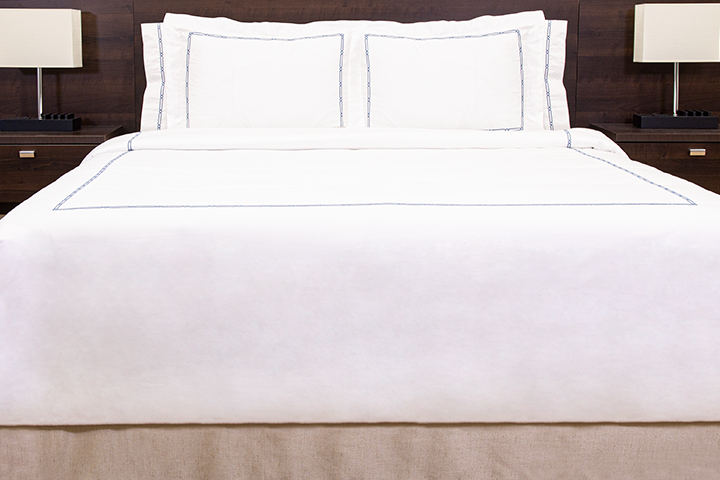 Our newest embroidery collection offers you flexibility not only on the embroidery design but also for your sheet quality. You can choose from 6 different sheeting qualities, 10 different embroidery styles in 8 luscious colorways all of which will create a unique story to tell.
From a Double Baratta to our Roped embroidery, these timeless embroidery stitch options offer the most beautiful curated collection, elegant in style and soft to the touch. If you are looking for something bolder, our Soundwave stitch, a large Ikat inspired design, is perfectly designed to make a distinctive statement in the guestroom. Each stitch is woven to create a high density, raised effect, which beautifully showcases the embroidery. Whether you are looking to create a contemporary or traditional environment, our embroidery options will meet any design aesthetic you are looking to achieve.
Gondola
Roped
Amazed
Infinity
Tipsy
Ascend
Cirque
Double Baratta
Tempo
Soundwave
Marry Me
Seduction
No Strings Attached
Shade Fifty
Nightcap
Rendezvous
Oh Captain
Red Handed
Our bedding is available in a cotton/polyester blend, 100% cotton, as well as our TENCEL™+Plus Lyocell, which offers shorter drying times and its cooling attributes can help decrease body temperature, all while meeting the world's sustainability needs. We offer three various sized stripe options; while they cannot be used with embroidery, they offer an alternative to our solid sheet collection. Having a subtle hint of a stripe is a great alternative when looking for bedding.
All of our embroidery stitches are perfect for a Flat Sheet, Duvet, Pillow Case, and Sham. All sheets, including our Fitted Sheet, also come without embroidery. With a plethora of styles and colors, you can mix and match all of your design needs.
As you can imagine, the variety of sheeting constructions, embroidery styles, and colors, all complement each other and are the perfect solution for your final design concept!
Embroidery Specifications
Select your preferred sheeting base fabric. EX: BED02-02 T200 PERCALE. This will become the base for your product and item # specification.
Choose from one of our ten designer embroidery stitches, EX: 04-Infinity, so your specification # will now read BED02-02-04, Description: T200 PERCALE INFINITY.
Now apply your embroidery color from one of eight handpicked, classic designer embroidery colors to fit any scheme. EX: 05-Nightcap. Your specification will now readBED02-02-04-05 Description: T200 PERCALE INFINITY Color: NIGHTCAP.
Finalize by selecting your finished product and size. See reverse side of this samplebook for final product and size options.EX: For a King Duvet Cover, your final specification item would read as: BED 02-02-04-05-KG-DUV Description: T200 PERCALE INFINITY KING DUVET COVER Color: NIGHTCAP.
To quickly download your fillable PDF for your own customizable specification, visit the BED02 Specifications page or scan your QR code for quick access.

** Note that all products are available without embroidery design, just skip Steps 2 & 3. All striped sheeting fabrics BED02-07, BED02-08, and BED02-09 are available as products WITHOUT embroidery only.

*** Custom embroidery styles and colors available for a minimum. Please inquire with your Account Manager for further details.